January 2023 Almond Market Report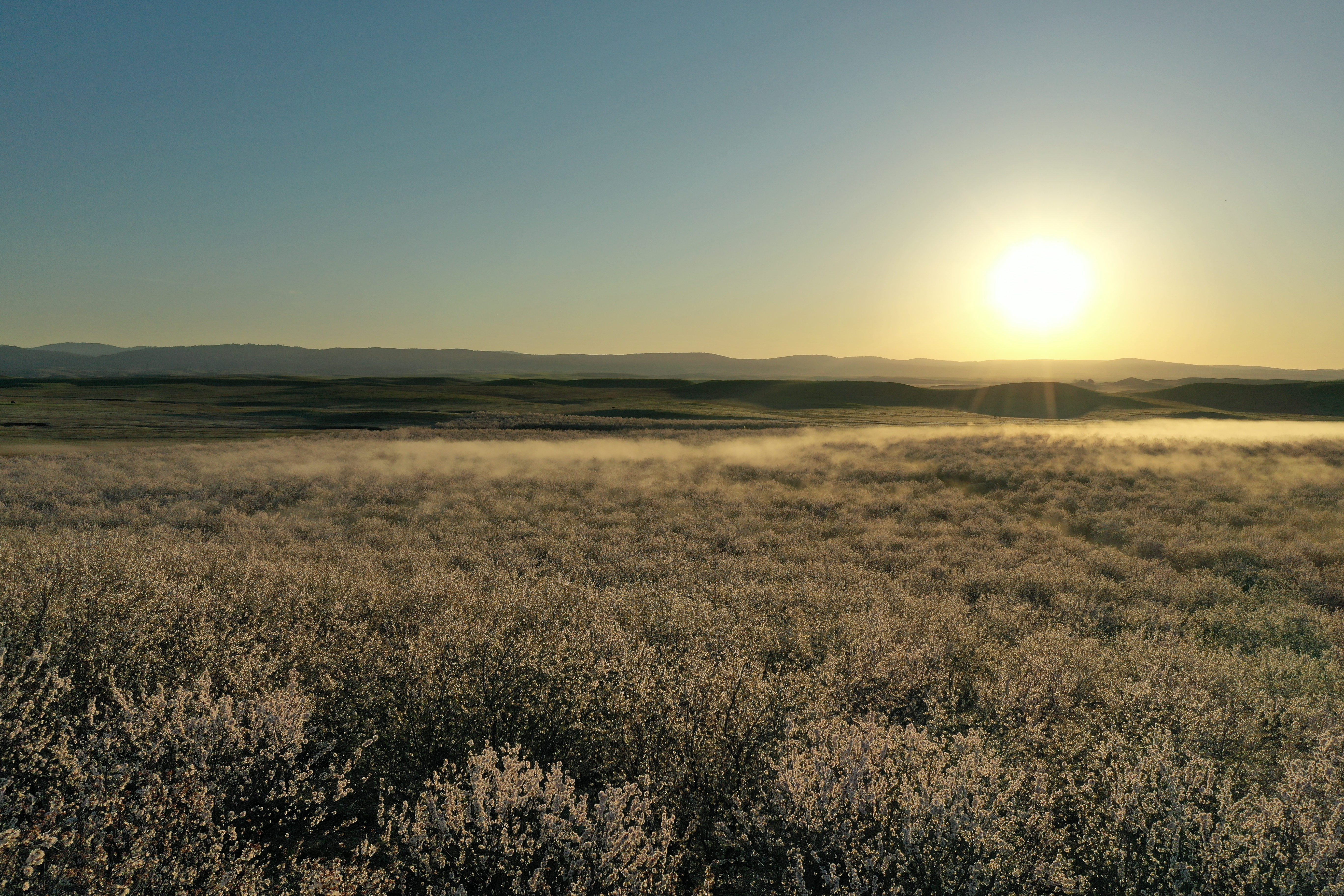 Select Harvest would like to acknowledge the devastation that has befallen Turkey and Syria as a result of recent earthquakes. As a member of the global community we are deeply saddened by the destruction that has wreaked havoc on our global community. We wish for safety of those who have survived, compassion for those who grieve, and a speedy recovery for all those impacted.
Strong Shipments
The January Position Report shows a record shipment figure for January as shipments exceeded 229 million pounds. This is +29.6% larger than a year ago and is the largest shipment month to date on the crop year as we reach the halfway point. Net shipments on the year are +2.63% above last year at this time with export shipments up +7.20% and domestic shipments declining by -7.26%.
The pace of crop receipts, while naturally slowing as stockpiles are depleted, were shorter than last January. Total crop receipts now total 2.475 billion pounds and -12.47% below last year. At this pace, full crop yield would target 2.55 billion pounds, but the slowing of receipts suggests yield will fall closer to 2.5 billion pounds. This is somewhat below Industry expectations that have generally long been in line with the 2.6 billion pounds projected by the Objective Forecast released in July, but not significant enough to overly move markets.
New commitments surged in January with Handlers adding over 350 million pounds to the books. This is the second largest single month since at least the 2016/17 crop year. This helped suppress the Industry's uncommitted inventory levels from +4.86% YoY in December to -11.41% YoY in January. Commitments to export markets continue to lag behind last year's figures trailing by -2.34%. Taken collectively however, this is good news to Handlers as it signals that the industry has done well to work through the historically large carry forward and the resulting oversupply situation, while export markets that have been fueling recent demand growth likely have more buying to do.
Water
Drought conditions, and by proxy, water availability for the summer growing season is markedly improved over this time last year. That should help quell fears of another season of potential stressors like deficit-irrigating and sub-optimal water sources impacting otherwise healthy trees. That said, damage done from previous seasons will take time to repair, and long term water variability and SIGMA implementation are likely to continue to suppress new plantings. It is also true that while the situation has improved, the State's water delivery capacity also remains impacted from years of supremely dry winters.
As of February 8th, all regions of California have exited the worst drought designations according to Drought Monitor. When we published our last report, the entire almond growing region remained in Extreme Drought conditions. A month later, the Central and South Valley have actually improved two tiers to Moderate Drought conditions. Here are drought maps from 2/8/23 and 1/12/23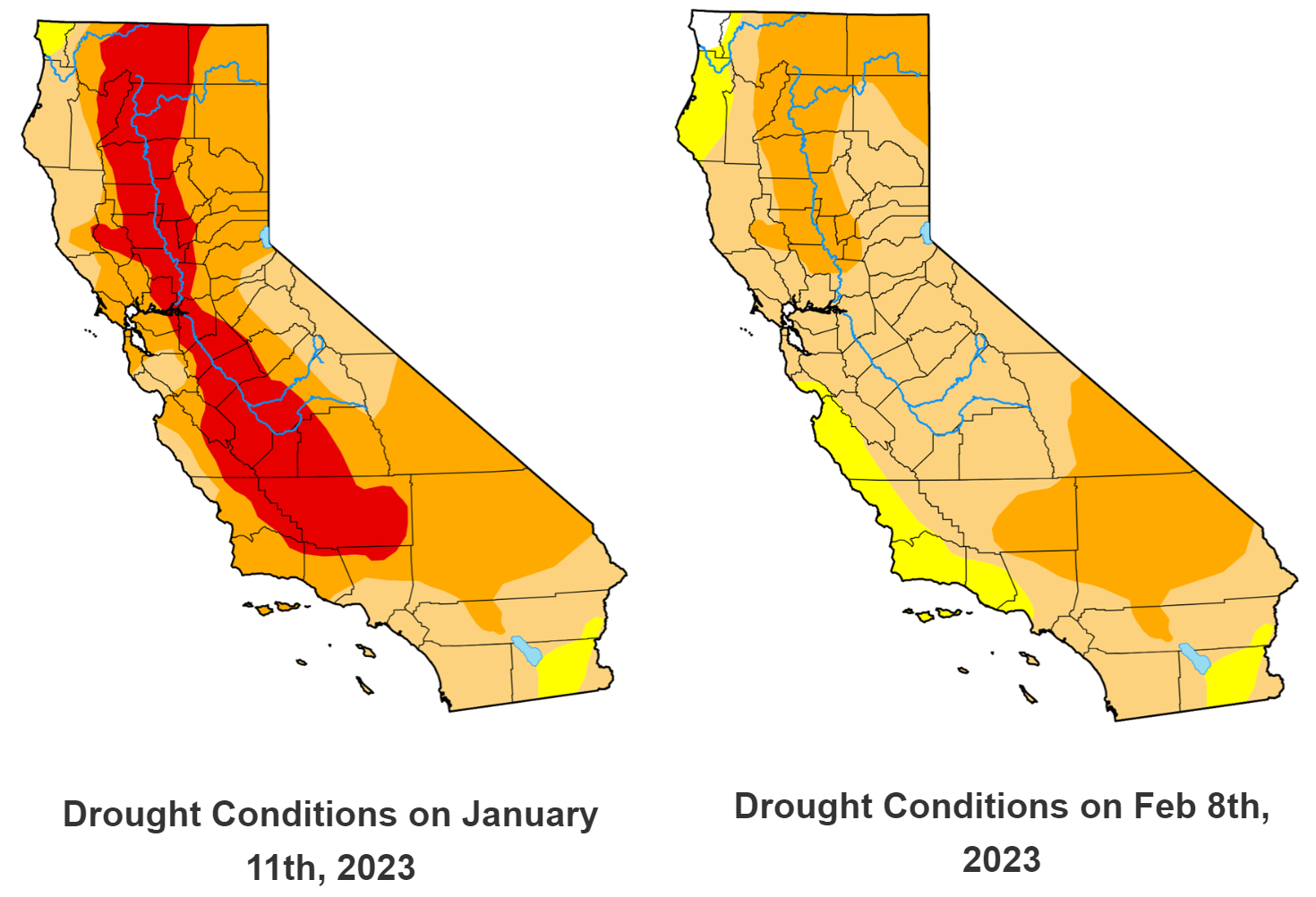 The improved conditions are obviously thanks to a wet winter that saw a parade of significant storms to end December and continued through the first half of January. These storms caused significant flooding concerns, which have thankfully subsided. But periodic systems have continued to pass over California and continue to deposit precipitations. Most weather stations in the valley are reporting well above average rainfall for this time of year with very few exceptions. Many Central and South Valley reporting stations have also exceeded their full seasonal average with two months remaining in California's historically defined rainy season. A modest back end to the season would only continue to improve these numbers.
The Sierra Nevada snowpack is also exceptionally robust. All regions have surpassed their seasonal (through April 1st) averages. The Southern Sierra lead all, seeing 160% of seasonal averages already. The North, while lagging by comparison, has also surpassed it's average seasonal total and sits at a healthy 160% of normal for this time of year. With two full months remaining in the wet season, optimism is high that these numbers can continue to improve.
The snowpack feeds California's reservoirs which provide irrigation water in the dry months. Reservoir levels have been depleted from years of droughts, but recovery is in progress. Lake Shasta, California's largest reservoir added 60 feet in January. Several reservoirs have also improved to meet or exceed their historical averages for this time of year including Oroville, Don Pedro and New Bullards Bar (2nd, 6th and 9th largest by volume respectively); however, most of California's largest reservoirs remain below their historical averages, including Lake Shasta. With the snow pack well above normal, larger future inflows are to be expected and the possibility for additional precipitation provide optimism of continued filling of our water supplies.
Water regulators have not yet committed to full water allocations this upcoming spring and summer, but should conditions continue to improve over the remaining rainy season, it becomes more and more likely that water availability will not be an issue this season. This is welcome news for all and we'll continue to monitor conditions knowing full well that California weather is as fickle as anywhere.
Market Review
Asia
India continued its strong pace of importation bringing in over 34 million pounds in January. This is +11.9 million pounds more than last January representing +52.3% growth YoY for the month. After starting the crop year slow (in large part because of where the Diwali season fell this year), the subcontinent has now recovered and on net falls just -2% behind its pace last year through the first half of the crop year. We expect India to continue to show strong demand and we expect positive annualized growth in the region before the end of the crop year.
The immediate interest from China that our sales team reported last month certainly materialized in January. China imported 5.8 million pounds in January. This is +89.7% above last January and more than +4 million pounds than a month ago. Growth was seen in both inshell and kernel almond varieties YoY for the month of January, but the faster growth was seen in kernel almonds. This continues the trend we've seen from China where kernel shipments have grown by +6.83% on the crop year, while inshell shipments are off -30.1%. That said, the accelerated inshell buying observed in January is something our sales team expects to continue, at least in the short term, expressing that they have observed strong interest from Chinese buyers within the inshell varieties. On the whole, China represents a significant opportunity for California Handlers and could yet be a Black Swan market if demand continues to materialize and stabilize.
Both China and India now have free trade agreements in place with Australia. This is providing Australian almond suppliers with a significant pricing advantage over California suppliers where tariffs are added on top of market price. This has allowed Australian suppliers to price their crops above that of California and take the trade advantage in margin while remaining price competitive to the importer. This reality could damped the top end of the growth potential from both of these markets from California's perspective as Australian suppliers may favor these markets for the added margin opportunity they present. That said, both China and India will continue to present ample opportunity for California handlers.
Western Europe
Western Europe on net went from pacing +1% growth on the crop year in December to pacing +10% by the end of January. This is a phenomenal figure for a relatively mature and large market and especially impressive six months into the crop year. The region imported over 56 million pounds in January surpassing last January's figure by more that +22 million pounds representing a +64.7% YoY increase. This follows a similar 56 million pound shipment month in December that itself was a +22.9% increase YoY. The volatility we had observed last year within the region regarding shipment figures are no longer at play, suggesting that the fear and uncertainties within the region have subsided. Instability with Ukraine and Russia could again play a larger influence, but for now this does not seem to be impacting demand.
Spain, Western Europe's largest market, continued its exceptional buying pace. The country is now +26% ahead of its almond import figures on the crop year after topping 19.4 million pounds in January. This was a +78.3% increase YoY in January. Spain is California's 2nd largest export market, making its growth figures particularly encouraging to California Handlers.
Germany, Netherlands and Italy (2nd, 3rd and 4th largest markets respectively) are all seeing positive growth on the crop year as well (+9%, +6%, +3% respectively). Each of these three nations also significantly surpassed January figures from a year ago with Germany leading the way with +73.5% YoY growth, followed by Italy with +44.7% and Netherlands with +29.1% growth figures.
The United Kingdom is the only Western Europe top-5 market not seeing growth and is currently pacing -8% on the crop year. This is a market that we admittedly are still trying to understand why it is struggling. Previous Industry advertising campaigns would have set the expectation of growth, but have either not had their desired effect or have been hampered by other market realities. It remains possible that the UK's exit from the European Union has dampened business activity leveraging almonds, but that is speculation from our part and is something we are trying to better understand. With its struggles and the +33% growth rate that France is currently enjoying, France is now just 40 thousand pounds behind the UK for taking over as the 5th largest Western Europe market and seems likely to do so by the end of the year.
The Middle East
The Middle East continues to be a significant source for demand growth of California almonds. The region has now imported over 147 million pounds on the crop year growing at a +45% rate through the first six months. Growth is being fueled entirely by the kernel market with shipments up +59.4% on the crop year, while shipments of inshell products are off -4.7%.
The UAE, the region's largest market, has accounted for nearly half of all shipments to the region and is currently seeing a +37% growth rate on the year. This is up from a +34% pace seen in December after adding more than +3.5 million pounds YoY in January. Unlike the region on a whole, the UAE has also seen growth in inshell shipments and is currently up +16.0% on the crop year.
As the region's second largest market, Turkey has enjoyed a strong growth rate as well, adding +38% on the crop year. January shipments were +156.5% above last year. The unfortunate series of earthquakes and their aftermath could cause short term suppression of growth, but Turkey's position as a gateway to Middle Eastern and Eastern European countries means that any consumption hit from domestic economic fall out is a minor piece of their almond trade. While areas most impacted by the earthquakes will have infrastructure impacts, the country is large and business centers geographically diverse, suggesting that, in general, regional industry is positioned to enjoy resiliency. Turkey will likely remain a growth center.
Jordan and Saudi Arabia, currently 3rd and 4th largest in the region, both boast growth rates on the crop year over +100% (+104% and +102% respectively) and are separated by just 500 thousand pounds. Both have shown consistent strength this crop year and project for continued growth.
North Africa
The region remains a relatively small one by comparison, but it might be time to quit overlooking it. In January the four countries showing imports of California almonds (Morocco, Libya, Algeria and Egypt) combined for over 9 million pounds. This is on par with the UAE. On net, the region is up +213% on the crop year with Morocco leading the way as the largest market in the region. Morocco is up +269% on the crop year and has now imported over +18.5 million pounds more than it did a year ago.
Algeria has also now had back to back months importing over 1 million pounds having imported 1.0 pounds in December and 1.8 million pounds in January. Through January of last year, the country had only imported a total of 2.7 million pounds for the crop year. Libya as well has shown significant and sustained growth this year having imported almost +4 million more pounds that it did a year ago.

What's Ahead?
Bloom is beginning for California almond growers. This is an important event for the growing community as the all important pollination of trees occurs entirely within this brief window. Weather conditions will play a large role in the success of the bees that have been brought in to do their work as excessive wind and rain, as well as temperatures that are too cold, can reduce the activity level of the bees. While occasional systems are likely to bring some wind and rain to the region, breaks between with ample sunshine and warmth are expected as well. As we were reminded last year in the North, unfavorable weather can occur, so growers will continue to watch forecasts as bloom reaches its peak in February.
Commodity prices seem to have hit their floors in January with some benchmarks seeing small gains after last month's Position Report that indicated stronger than expected demand. These gains are likely to strengthen after record shipments and very strong commitment figures in January with our team reporting a +$0.10 - $0.15 premium already being assessed on new crop versus old crop. Uncommitted inventory is now below that of last year, suggesting supply and demand are coming more into balance.
The oversupply period is not entirely over when you factor in that the Industry would like to target a more historically average carry forward and will need to see continued demand strength to reach that figure. The improving water conditions will also alleviate some concerns about suppressed future yields and lend a counter to the narrative of slowing and/or shrinking acreage growth. This likely means buyers will continue to find ground in pushing the oversupply narrative in the short term and continue to enjoy historically low commodity prices even as we've seen those prices to begin to climb.
Continued strong shipments, weather issues during bloom and updates on acreage estimates in the future could reverse this narrative however. We have also frequently observed that demand cycles have been especially hard to predict as the global economy and logistic management is still dealing with ripples from the pandemic. We noted this in our December Market Report and April through June continues to be a critical demand period for California almond handlers looking to formally exit the oversupply scenario.