Nut News: Trends and Innovations Happening in the Almond Industry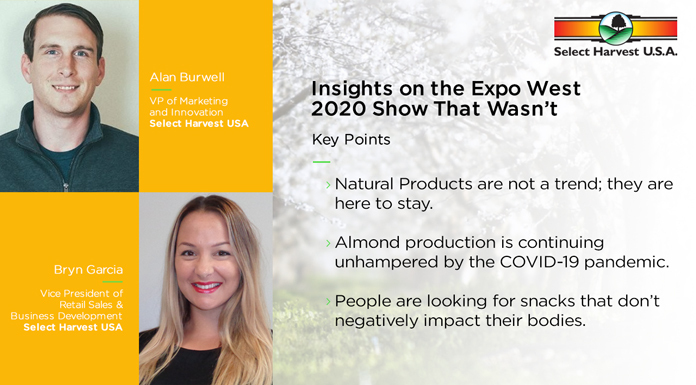 Natural Products Expo West is a premier annual event for the food and beverage industry. Expo West 2020 canceled due to the COVID-19 pandemic. Sharing their disappointment of this news were Alan Burwell, VP of Marketing and Innovation, and Bryn Garcia, VP of Retail Sales and Business Development, both from Select Harvest USA. For Garcia, the opportunities Expo West provides are the ability to get in front of 3,000 + retailers and share with them all of the exciting new products Select Harvest is launching. For Burwell, he looked forward to seeing what innovative products and solutions retailers were unveiling at the show. "That natural foods' focus is what makes Expo West special, and why so many people come to it," Burwell said.
Even though people will have to wait until 2021 for the next Expo West, Burwell and Garcia offered their insights on how Select Harvest is continuing to maintain relationships with the retailers they looked forward to interacting with at the show. Garcia said Select Harvest reached out to its entire retail network to lend assurance that Almond production operations continue unhampered by the pandemic. "For new retailers, we've been able to utilize platforms such as RangeMe as well as other social selling platforms to showcase the array of products that we have," Garcia said.
Burwell said what makes Expo West so exciting is one never knew what the year's hot new trends were until they arrived at the show. But Burwell did say Select Harvest was excited about revealing a new almond-based product that is indulgent and delicious but isn't going to have all those extra calories, and carbs, and things like that. Perhaps there will be product unveiling on a future installment of nut news.