Nut News: The March 2019 Almond Position Report with Select Harvest USA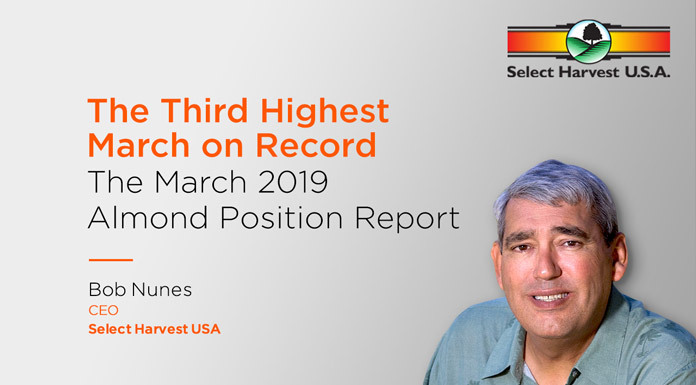 While almond shipments in March 2019 did not top the record shipping month seen at the same time last year, Select Harvest USA CEO Bob Nunes says shipping and sales for almonds are healthy this month. He attributes this to strong demand from an Indian holiday and steadying European prices. On Nut News, Nunes highlighted March 2019 as the third largest shipping March on record and shared record new sales generated in the month.
According to the Almond Industry Position Report for March 2019:
India's particularly early Diwali season helped drive demand. The country derived most of the almonds demanded for the high religious holiday from 2018's crop because the holiday fell earlier on the calendar this year and 2019 crops would arrive too late.
Europe's almond market was very active this month and shows signs of stability. Nunes says he sees that consumers are purchasing almonds throughout the summer months, showing steady demand and leading to price stability on a month-to-month basis.
Demand for the Middle East was "spotty" as Ramadan approaches and the region makes use of its existing inventory, Nunes says.
China's demand continues to be weak as the unresolved trade agreement between the country and the United States continues. "We're hoping that to rebound for the 2019 crop," Nunes says.
Also in this episode, Nunes highlighted the Terranova Trading annual crop estimate– one of the first to come out this year– and when to expect the National Agriculture Statistic Service's subjective estimate, which helps determine current and new crop price.
The Select Harvest CEO also discussed supply and demand scenarios, and whether there will be price-spiking demand that exceeds the supply until the new crop arrives in September 2019.