Select Harvest Market Update April 2021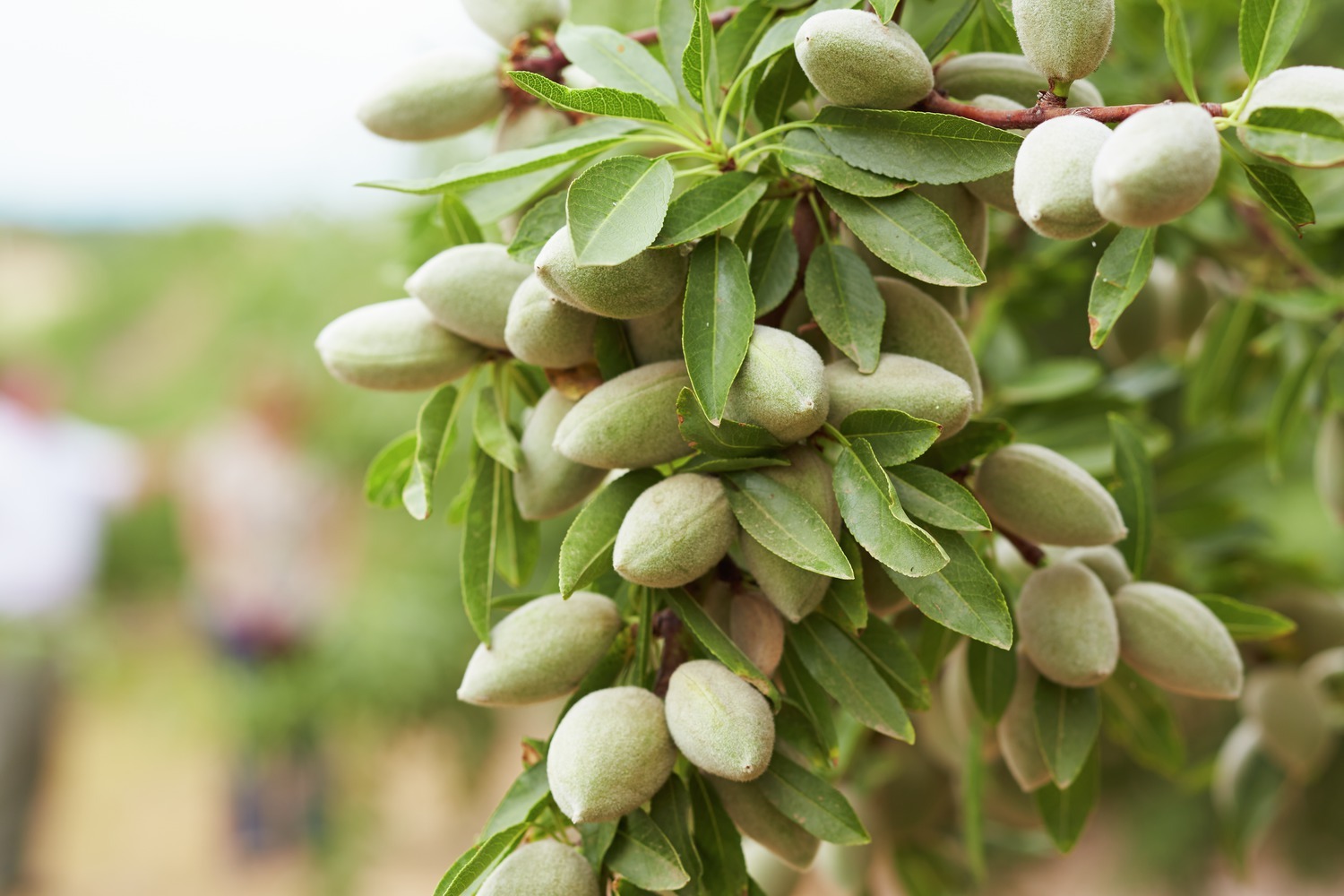 First Thing First
Shipment numbers for the April 2021 Position Report published by the California Almond Board continue to show strong demand. Net shipments were nearly 250 million pounds setting a record for April. On net, April shipments were up +37.9% YoY, which had set the previous record. Leading the way were export markets, which were up +73.8% YoY. Domestic shipments slipped -9.8% over last April, but still managed a respectable 70+ million pounds.
New commitments have followed historical trends lines, peaking in September and gradually declining throughout the crop year. That said, current rates of new commitments are certainly above last year's figures. This would of course be expected for a year in which supply has increases as much as it has and is a good indicator that buyers continue to be active in the market.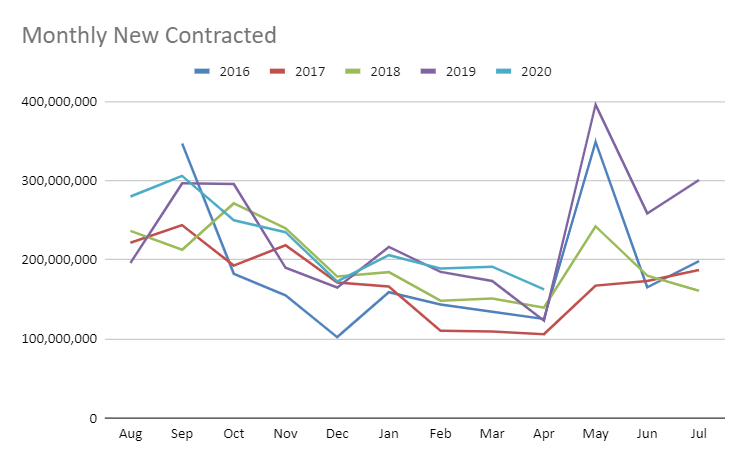 Charting shipments may be more telling however, as current shipment numbers buck historical trend lines that would normally peak in October and decline through the remain parts of the crop year. The last three months clearly stand out in the chart below showcasing how extraordinary the recent shipment levels have been. They are far outpacing last year's and rivals the peak numbers from the traditional pre-holiday spike. Pair this with strong commitments and the suggestion would be that a tighter than anticipated transition could well be on the horizon.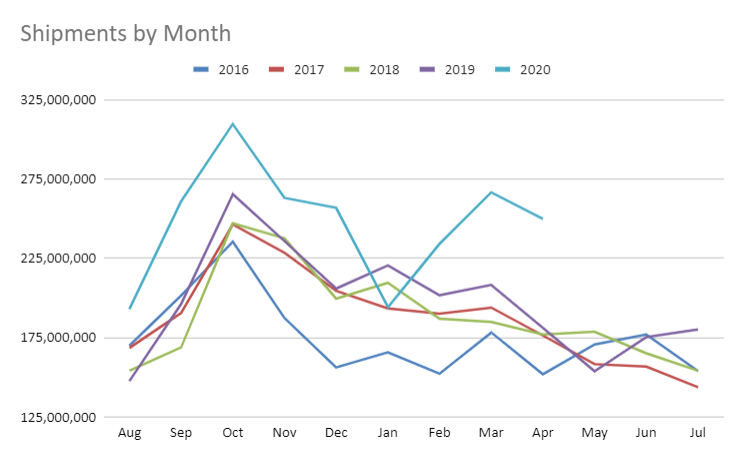 If you were to project forward and simply use the current +19.64% YTD growth rate on shipments, carry forward to new crop would amount to roughly 640 million pounds. This would be a historically comfortable percentage of crop receipts. But modeling this way assume no additional acceleration in shipments, which would go counter to what we've seen over the past three months. We've already experienced upward pressure on prices and any additional tightening of the transition's carry forward would continue to edge prices higher across the board. Tomorrow's Subjective forecast could also influence pricing.
Bright Sports in Export
In reviewing the position report numbers, it would be impossible not to continue to talk about China and India. China continues its buying spree and is now pacing +67% growth on the year topping 143 million pounds of imports. This growth has been especially accelerated the past few months. April imports over last year topped +466%. There are a few reasons for this accelerated growth, which we touch on in our last episode of NutNews, but we won't dive into here. The bottom line is China has returned as a buyer of California Almonds in a big way and under current conditions there isn't any reason to believe that this would change any time soon. Looking ahead to next years crops China could very well continue to be game changer.
India now paces +57% growth on the year and imported 21.7 million pounds in April. This represents a +230% increase YoY and continues to signal that India has a large appetite for almonds at these prices. It's important to remember that Covid has been surging in India and how this may ultimately impact May or June shipments is yet to be seen. But the reality is, in some form or another all markets, including India, have been dealing with the impacts of Covid for well over a year now and the robust buying we've seen from India is likely to continue at least as long as prices remain suppressed.
Both China and India are strong buyers of Inshell almonds. The recent acceleration of buying in China, particularly in the Inshell market, have tighten Inshell supplies. Both markets will likely be looking for early and prompt shipments of Inshell as the new crop begins coming in in the Fall. This could put the squeeze on short term shipments through transition with additional price firming for Inshell.
Western Europe on the whole continues to be a bright spot moving from an annual growth rate of +12% in March to 14% in April. Demand growth was lead by the likes of Spain, Germany and the Netherlands which as the three largest European markets are up +12%, +14% and +22% respectively on the year. For the month of April the whole of Western Europe is up +31.4% YoY.
Logistical Battles
Logistical bottle necks remain, and as we previous reported, we expect logistic issues to persist through at least the summer. Buyers seem to be adjusting by allotting additional transit times. European markets which once budgeted 30-35 days in transit times have begun doubling this expectation and are budgeting as much as 70+ days. Those looking for prompt shipments or otherwise unable to adjust their production time frames will be paying a premium for the foreseeable future. Rolled booking and inflated freight rates are going to be a reality for he foreseeable future as well. Handlers have reported shipments from as far back as February being rolled and those shipments that are making it on board are seeing rates significantly higher than just a few months ago. Delays and added shipping costs are something importers should continue to budget for for the immediate future.

Want More?
Tomorrow we are expecting the first crop forecast with the release of the Subjective survey. While not as rooted in statistical observations as the Objective forecast, it has become an important barometer for the California almond industry in beginning to assess forward looking supply. With demand as strong as it is, all eyes will be on tomorrow's forecast. Make sure you're in the know by reading our update following tomorrow's publication. We'll email it you!

Our monthly NutNews Podcast is full of interesting almond-filled tidbits, factoids and fun conversation. Our April edition is still very much relevant to current conditions, particular water issues is draught impacting much of the state. Whether your new to almonds, or a stalwart, you're sure to learn something about the world of almonds. Don't miss an episode by subscribing to NutNews on your favorite podcast streaming service.

You can find past Market Reports on our website under the 'News and Resources' tab. Follow us on social media as well - click the icon of your favorite platform in the footer and be sure to like and follow us. As always, love to hear from you. Email us at info@selectharvestusa.com.