Select Harvest Almond Market Update July 2020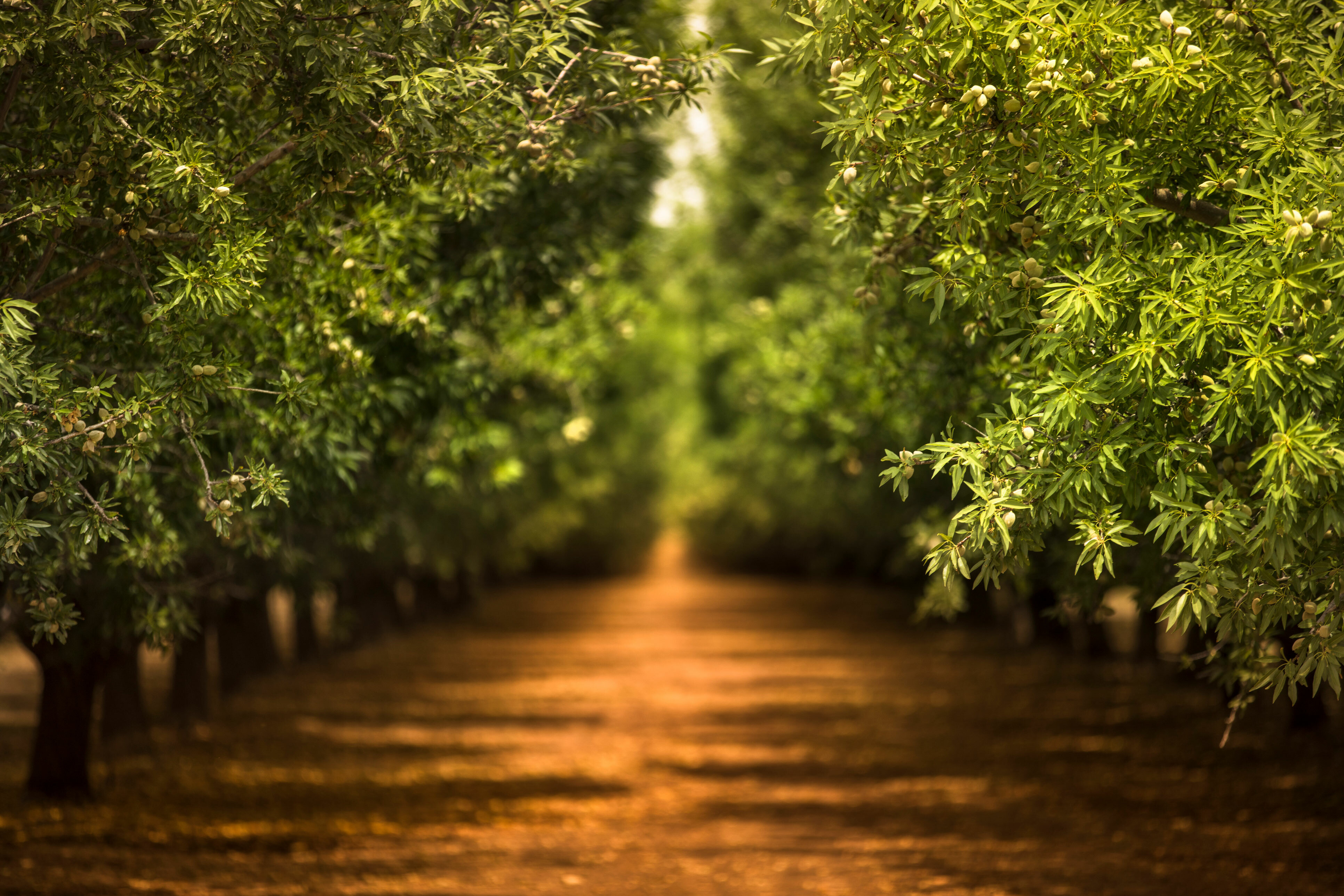 Let the Nuts Fall
That's a wrap for the 2019 crop year; the first nuts of the 2020 harvest have fallen! So much more is yet to come with the busiest harvest days still ahead of us. If you happen to be traveling in the Central Valley here in California anytime in the near future, keep any eye out for all the extra equipment in the orchards.
Where We Stand
The July Position Report notes that we enter August with a carry-in weight of just over 446 million pounds. This falls at the aggressive end of our estimate from our June Market Update, but still a comfortable number for the industry to supply the transition to the 2020 crop. We don't have any reports shortages of any specific variety or size, so we expect stable pricing for prompt deliveries as we begin harvest.
Looking ahead into the 2020 crop year, the July Position Reports presents some reasons to be optimistic about demand. Commitments for current crop across both domestic and export markets is up a combined 61.26% from this time last year. New crop is also aggressively sold. On a 3 Billion pound expectation, the industry sits at 27% committed. This is a whole 10 points higher than where we were last year with new crop commitments. With the suppressed pricing we see right now it would be reasonable to attribute some of the buying to buyers getting ahead for the year, but by the same token it would be reasonable to suggest that buyers feel prices have hit their floor. This in turn suggests that buyers either expect strong demand growth at these prices and/or don't believe California will be as oversupplied as some may think. In either case, California doesn't seem to have problems selling almonds right now.
That assertion is further supported by July shipment numbers. Domestic shipments were up 8.4% in July while export shipments rose 22.6%, the largest YoY increase of any month this year. On net, shipments were up 16.8% over last July. This continues the strong numbers we saw in June as buyers began taking advantage of the historically low prices. The domestic shipments, while below export growth, coincides with an accelerated shift in consumer shopping habits observed by retailers who are reporting strong demand for grocery items, shelf stable products, and health-conscious products.
Bright Stars in the Export Markets
Did anyone see Neo-wise last month? The comet put on a stellar celestial display. Now we said this last month, and we're saying it again, but here on earth India will be the superstar for demand growth in 2020 as we deal with an exceptional supply increase and consequently attractive pricing for a market particularly motivated by price. Almonds are already well positioned in this market and top of mind for everything from health to beauty. The Coronavirus is only helping to fuel consumer interest. India posted +62% growth YoY in July and finished the year with an 11% annual growth rate. This translates to a growth of over 34 million pounds, which for reference, is effectively the same volume the United Kingdom bought in 2019.
Germany is a bright spot in Western Europe up 49.4% YoY for July and finished the 2019 crop year up 21%. Estonia is an interesting destination in Eastern Europe. The region's largest market posted a 44% growth rate on the year. Spain is a market that seems sluggish, which as Western Europe's largest market, could be worrisome after posting a -2% growth rate on the year.
Turkey and the UAE drove growth in the Middle East up 70% and 25% respectively on the year. Turkey is up 178% YoY in July, which is extraordinary as it is operating on a 36 million pound annual base volume. That is to say its growth is no flash in the pan. Some of this could be attributed to regional politics. Lebanon as an example declined -47% on the year and saw no shipments in July. This is not a major market, but again highlights the possible necessity to explore alternative methods of bringing product into these markets during uncertain times.
Direct shipments into China were down -23% on the year. This may not be a surprise with the trade war dominating political headlines for much of the year, but it should also be noted that the trade war wasn't new to 2019. What we're seeing is China continue to look to grey channels and Australia. All indications suggest China is still a major buyer of almonds and we continue to expect a rebound on direct shipments into China should trade barriers be removed. Furthermore, we are not seeing acceleration in purchases with these low prices. This suggests continued development and reliance on gray channels into China and may also forewarn of a slow rebound if and when trade barriers were to diminish.
Latin America as a whole was up 48% on the year moving from 16.88 million to 24.97 million in 2019. This is sizeable growth and bodes well for 2020 as marketers of almonds will need to continue to develop new and emerging markets.
What Happened in 2019?
We have put together a high-level recap of the 2019 crop year. Our grower-partners got a sneak peak last week, but it's now on our website for everyone's review. You can find the 2019 Review and past Market Updates on our website under the News & Resources Tab
Onward!
New crop means new challenges. We're still entrenched with the realities of Covid-19, politics always seem to present new dynamics, and mother nature has more than her fair share of wild cards to play. Who knows what tomorrow will bring? We expect continued low prices, but this present opportunity to nurture and advance new markets. We will remain flexible and adapt. Hope you will too.
Find past Market Updates on our Website and follow us on Facebook and LinkedIn for all the latest news and happenings.